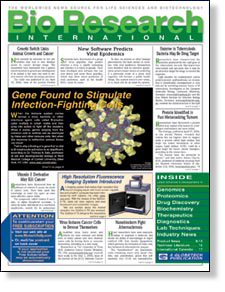 The Publication
Bio Research International meets the need for the international dissemination of latest news and applications in the various specialties that make up the biotechnology and life sciences research field worldwide. Editorial content features scientific news updates on areas including: Genomics/Protemics, Drug Discovery, Biochemistry, Therapeutics, Lab Technologies, Industry News;as well as New Products , Technical Literature, International Events that are of interest to researchers and scientists worldwide.
Circulation Information: Who Qualifies?
Bio Research International is mailed free-of-charge to qualified professionals in in bioresearch laboratories worldwide (outside the USA and Canada). Circulation includes senior specialists in the following areas: Biochemistry, Biology, Cell Biology, Clinical Chemistry, Genomics, Gene Therapy, Hematology, Immunology, Microbiology, Molecular Biology, Organic Chemistry, Pathology, Pharmacology, Plant Sciences, Protemics, Tissue Culture, Toxicology. To qualify, readers in the above categories must request the publication in writing - by mail, fax or through email. 
Publisher
Globetech Media is world leader in controlled-circulation international biomedical communications. Current Globetech publications and websites include: HospiMedica International, HospiMedica en Espanol, HospiMedica China, Medical Imaging International, Lab Medica International, Lab Medica en Espanol, Lab Medica China, Biotech News International, hospimedica.com, labmedica.com, medimaging.net, biotechdaily.com. STNews.com, as well as corresponding websites in various languages.
Globetech Media
INTERNATIONAL OFFICES
USA

• Tel (1) 954-893-0003 •

ads@globetech.net


UK

• Tel (44) 1753-892-791 •

paul.mills@globetech.net


GERMANY

• Tel (49) 9771-3528 •

jutta.ciolek@globetech.net


BELGIUM

• Tel (32) 11-224-397 •

nadia.liefsoens@globetech.net


ITALY

• Tel (39) 010-570-4948 •

fabio.potesta@globetech.net


JAPAN

• Tel (81) 3-5691-3335 •

katsuhiro.ishii@globetech.net


CHINA

• Tel (86) 755-837-53877 • Parker Xu

xp@unionbandy.net


KOREA

• Tel (82) 2-2273-4819 •

hauintl@chol.com
------------------------------------------------


Switzerland, Austria, Eastern Europe

:

Contact Germany




Nordic Countries

, Netherlands & France: Contact Belgium


All other countries

: Contact USA Main Office